Our Coaches
Meet the Two Birds team! Our coaches personify what we are about at Two Birds; a friendly, knowledgeable and supportive bunch that love to train, learn and laugh! Nothing worse than a drill sergeant of a coach who never cracks a smile!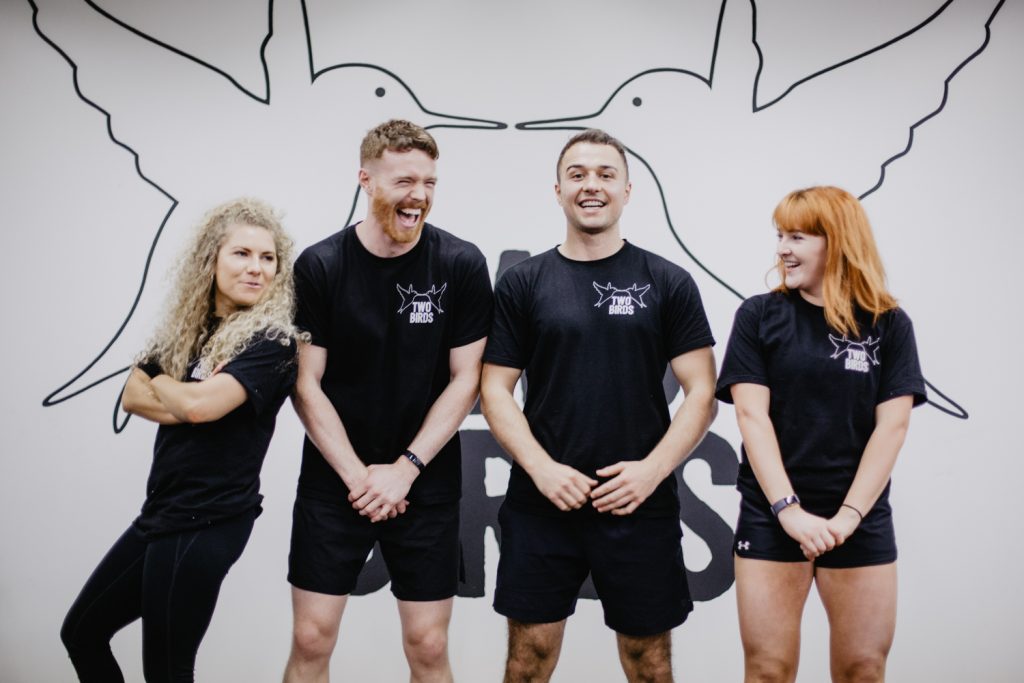 DANNY – Head Coach and Owner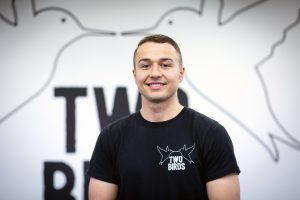 What gets you out of bed in the morning?
My business, our community and the opportunity it brings everyday to help each person who walks through our doors to improve their physical and mental health but most importantly leave feeling they have achieved something and have managed to crack a smile in the process, no matter how tough the process may be!
I love meeting new people and bringing them out their shell! Everyone who joins our community has their own challenges and level of ability but the beauty behind our style of group training is that men and women of all levels can tackle a workout together at their own pace.
What positive difference can I make as a Coach to your lifestyle?
Leaving my own 9 to 5 to pursue a career in health and fitness and launch our business, I know the importance of staying active as part of a busy lifestyle. Taking the time to invest in your own wellbeing has a positive knock-on effect to your work, family and social life. As a coach I like to take my members and clients out of their comfort zone and give them mini challenges that will build up their confidence and self-belief.
Our signature group workouts are a great example of this personal approach to coaching, where each individual is given 1-on-1 coaching on their technique, specific calorie and distance targets on our cardio kit, motivated to up the weights they are lifting, and encouraged to push themselves into different zones on our MyZone heart-rate tracking technology.
GREG – Coach and Owner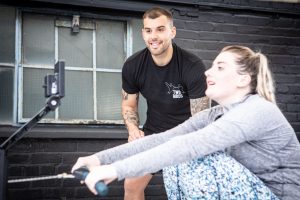 What gets you out of bed in the morning?
Normally two overly excitable kids …..but in general terms, a passion for the things that bring me happiness. Family, friends and our business at the core of everything I do. The relationships made in the gym are very important to me to ensure the community feel in the gym continues. An excitement for people's own passions in life whether it be wellbeing, food, music and family which motivates me to keep learning and improving in everything that I do.
What positive difference can I make as a coach to your life?
Building strong relationships and understanding a clients lifestyle I feel is essential to any type of coaching. With this in mind I always ensure all goals are fully understood and discussed as time progresses. I bring a positive attitude to every session with realistic and achievable goals whilst getting the most potential out of everyone I train with. Honest feedback and continual tweaks will lead to very successful sessions and happy lifestyle changes.
IAIN – Coach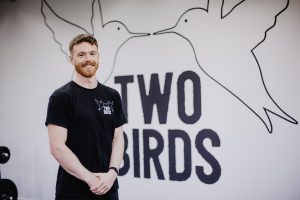 What gets you out of bed in the morning?
Knowing I can make a difference in someone's health and well-being is very motivating for me and the benefits of physical activity for public health is something I am very passionate about.
Also being grateful for the friends and family in my life that have inspired me to progress in a career in health, sport and fitness. And on a bad morning my espresso machine is always there for me.
What positive difference can I make as a Coach to your lifestyle?
I like to call my coaching 'exercise served with a smile' haha! As a coach I believe in educating members and clients on how to lift and perform exercises safely and then finding the most enjoyable and effective strategy that they can then apply to their own training and lifestyle.
Like any plan, if we do not enjoy something we are less likely to adhere to it and what we have at Two Birds is a supportive and social community which makes even our toughest training sessions enjoyable and worthwhile.
LOUISE – Coach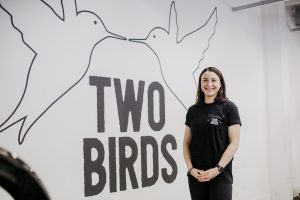 What gets you out of bed in the morning?
This is an easy one. I love what I do and I don't want to look back when I am old and feel disheartened that I didn't live life to the fullest. I just feel like there is no better feeling than going to bed at night exhausted and happy because you have a had a productive day. I am also a morning person so that helps!
What positive difference can I make as a Coach to your lifestyle?
My first aim is that I want you to enjoy fitness and I want you to want to be healthy. I will not be there counting each calorie for you, but I will educate and encourage you to make the change and be that support system that you will need along the way. I will push you to limits that you did not know you could reach. There is no better feeling as a Coach when a Client achieves something that they never thought they could.
I will also be there as someone to listen and bring a little positivity when things get a little tough and no that does not mean that you will get an easy session – this has been tried by many.
We need to make the most of life so as soon as your feet get out of bed in the morning, I want you to feel positive and feel full of energy and I will help guide you towards that by finding a method that works for you.
SUZI – Yoga Teacher and Practitioner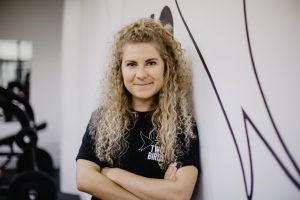 What gets you out of bed in the morning?
Other than breakfast, there are quite a few things that get me out of bed in the morning. I would say the predominant reason I throw the duvet off every day is teaching as part of a community and the fun it brings. I try my best to live life with a positive outlook, always trying to get the best out of people and be kind on this bumpy journey that is life.
What positive difference can I make as a Coach to your lifestyle?
As a yoga teacher, my main job is to give you the chance to switch off from any stresses at work or in life for the time that you're on your mat. Yoga can also improve balance, core strength and working on your flexibility helps with injury prevention. I like to keep my classes light-hearted and encourage you not to take the practice or yourself too seriously. Hopefully you'll leave your mat feeling stretched and rejuvenated.