Susan and Lyndsey – Two Birds #Champions
Posted 5 years ago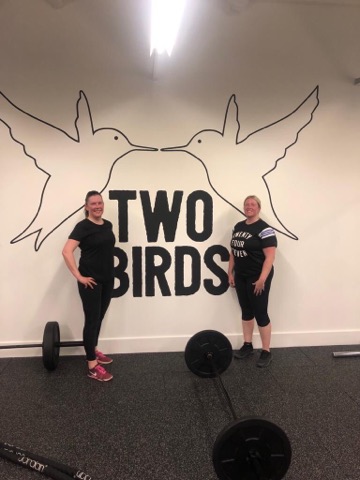 These two legends, Susan and Lyndsey, personify what we are about at Two Birds; getting results, always having a laugh, working hard, and never being afraid to give something new a try!
Susan has been attending our signature group sessions since the start of the year and seen us evolve with the opening of our new studio! Always smiling and pushing herself; here's what she had to say about her experience with us so far.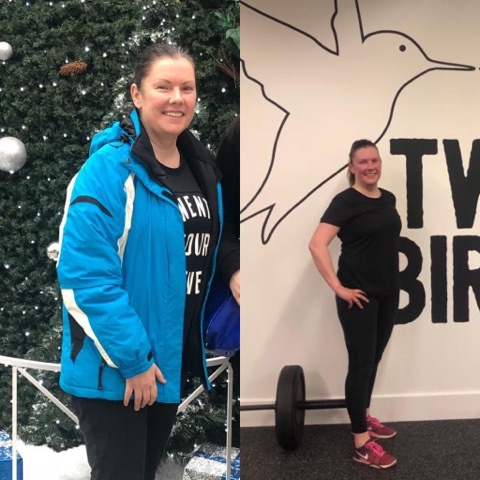 "I initially heard of Two Birds in December when I saw a competition trending on social media. As the lucky recipient I received a couple of Two Birds apparel T-shirts and 10 group session workout passes. It had been a long time since I participated in a group class and I was a bit apprehensive. Within a few minutes of being in the studio I knew I had nothing to be nervous about. Danny puts everyone at ease with a warm welcome. I've been attending the classes since January. After the first week I was really enjoying the workouts and got my partner along too."
Our holistic approach to fitness has encouraged Susan to make a lifestyle shift and sign up for events and continue to climb Munros out with the gym!
"I can see my shape changing! I'm definitely more toned, lost weight and inches from around my body. More importantly I feel stronger and healthier. Having a monthly membership I've been attending classes around 3 times a week and really seeing and feeling the difference. I'm really looking forward to the next few months and building on the changes already made. At the start of this year I set myself a couple of fitness goals – which I know I will smash as a result of enjoying the workouts and through the encouragement of everyone at Two birds. I think the difference between Two Birds boutique fitness set-up and other gyms is in the community feel Danny is creating. Doing workouts in smaller classes everyone encourages each other, led by Danny. See you at the next workout!!"
Lyndsey's speed and mobility has improved dramatically since coming along to her first group session at the start of the year. Every session she beats her distance or calories target or picks up a heavier dumbbell! Take her word it:
"From my first group session at Two Birds I was impressed with the set-up. The equipment is high spec and varied. I really enjoy the mix of a cardio workout and resistance training combined in one session. With PEAK45, I've been doing work outs with kettlebells, weights and boxing, all things I'd never had as part of an exercise regime before. For me that really works, mixing up routines and keeping workouts fresh. Smaller class sizes (than other gyms) are also an appeal for me. It means more individual attention from the trainer ensuring technique is right whilst providing motivation through setting goals be it calories to burn or metres to reach. I'm also really enjoying the social side of attending group workouts.. and of course the coffee afterwards."
We are so proud of the transformation Lyndsey has made to date and the enjoyment she takes from seeing results a session at a time!
"Over the last few months of being part of Two Birds my overall health has improved. I've lost almost a stone in weight and definitely feel healthier. I've found myself making better choices at meal times and I'm sleeping better at night. It's been an amazing journey so far being part of Two Birds and the journey for me will go from strength to strength with each class I attend."
Huge well done to Susan and Lyndsey! We love to get this amazing feedback from our members and being able to help them make their health and fitness a priority!
Look out for our next Two Birds #Champion blog! You can register for your Free Taster session at our new Glasgow studio here